Strategic Jaywalking
The Secret Sauce To Life & Leadership Excellence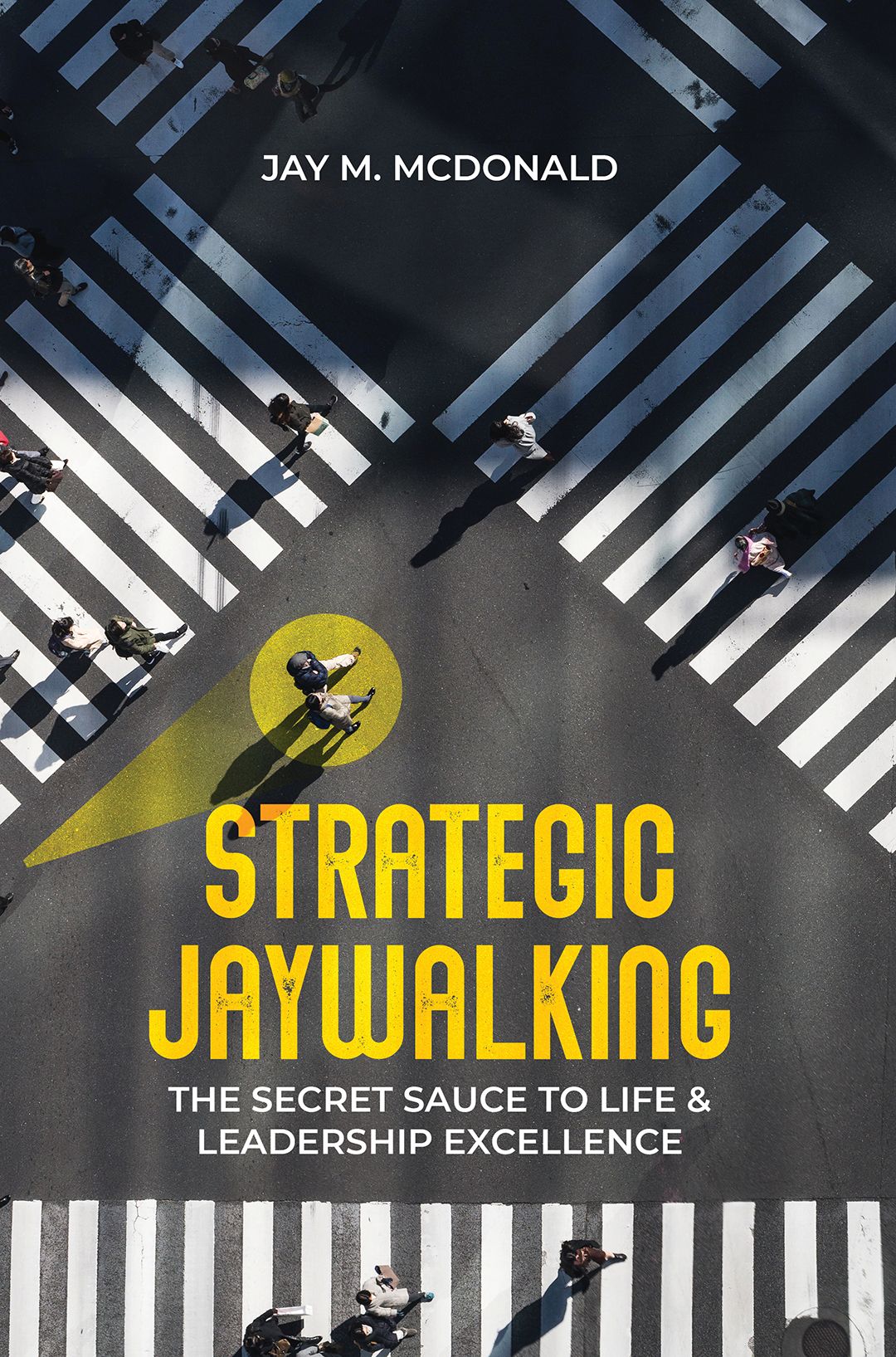 In a world where the pace of change grows ever faster, leaders must find better ways to innovate, create, and adapt. Strategic Jaywalking is a practical, common-sense approach to leadership and life in a world where being at the top of your game leads to success, while inertia risks mediocrity and obsolescence.
Having led and coached hundreds of business leaders across the spectrum, Jay McDonald gets leadership from the C-suite to the board room, to the trenches, and now, you can, too. Written in a conversational style, Strategic Jaywalking is a book for young and old, women and men. It's for the aspiring leader as well as the veteran business owner, CEO, or non-profit executive.
Jaywalking is a familiar term for pedestrians walking in or crossing a street at a place other than a designated crosswalk, or contrary to a traffic signal or posted rules. Applied to business and life, it is a metaphor for coloring outside the lines and being positively disruptive through innovative thinking.
Strategic Jaywalking is about measuring risk and finding ways to think critically in pursuit of novel methods or solutions. It's designed to provoke thought about how we can become our best selves as humans and leaders. Drawing from Jay's observations, experiences, failures (yes), and successes across a varied career, it offers sage advice not just about what you should be thinking, but how.
Through vivid stories, it explores the qualities of exceptional humans and leaders, people like Jeff Bezos, Sara Blakely, Albert Einstein, Roberto Goizueta, Steve Jobs, Martin Luther King, Jr., Mother Theresa, and Oprah Winfrey to name a few. Jaywalkers all.
The book's take-aways are captured in compelling stories, throughout the short, succinct, topically organized chapters, then summarized into condensed, actionable summaries at each chapter's end, offering a road map for discovery.
To perhaps misuse Apple's 1997 command to "Think Different," Strategic Jaywalking is your recipe for "thinking differently" presented by a seasoned executive whom hundreds of business leaders turn to for advice.

Also offering signed copies!
With several decades of life and leadership seasoning on his odometer, Jay McDonald has really created the ultimate guide for leaders at every level. Strategic Jaywalking focuses on the possibilities for living our lives and practicing leadership in a different and better way in today's world.
Marshall Goldsmith
World's top-rated leadership coach, NY Times #1 best-selling author of Triggers, Mojo and What Got You Here Won't Get You There
Strategic Jaywalking is such an engaging, uplifting and ENERGIZING read! So great also that it wasn't just a "dude" book (I like men - a lot - I just happen to not be one and LOVED the examples of leadership of women for myself, for my daughter and for anyone else who reads this book). It's a must-read leadership book for today's changing world.
Katie Goodman
Managing Partner, GGG Partners, LLC
It takes a Georgia Tech alum to fully capture the complexity and importance of our mission to develop leaders who advance technology and improve the human condition. Jay McDonald learned leadership in the school of hard knocks. Strategic Jaywalking captures those life lessons in an engaging way that will inspire anyone willing to chart new paths and make a difference in the world.
Dr. Ángel Cabrera
President, Georgia Institute of Technology
Strategic Jaywalking provides good life and leadership advice. To effectively manage through ongoing change and disruption, leaders must continue to challenge their thinking with fresh perspectives. Jay provides vital components that everyone should have in their leadership toolbox.
Sam Reese
CEO of Vistage Worldwide
How far you go and how quickly you get there just became much easier thanks to the guidelines given in Strategic Jaywalking. It reaches those on the rise and inspires those who have already achieved higher levels of success in ways that are logical and entertaining, a roadmap to being a better leader and a valuable part of the puzzle called Success. If being successful and inspiring others is important to you, this is a 'must read'.
Kay Cunningham
Founder/Principal at Pro-Efficiency Partners
Without doubt Strategic Jaywalking is the best book on leadership I've ever read. You won't be able to put it down. It is jam-packed with easy-to-read inspiring personal stories, stimulating quotations, valuable experiences, and rock-solid point-by-point guidance for today's world. Overall, it is a fabulous recipe book for leadership success. Grab a highlighter and a notepad. You are going to fill it with awesome ideas for your own leadership future."
Frank Feather
Business Futurist / Strategist and Author, "Think Future"
Strategic Jaywalking is packed full of real-world business lessons from a leader who has not only walked the walk, but done so with courage, high integrity, laughter, and an authentic love of people. No matter your age or stage in your career, Jay McDonald makes an impact on those who aspire to continue to learn, grow, and leave a legacy of significance."
Harry Flaris
Founder, Inspiration with Flair
Jay McDonald has run more businesses than most people have worked for across the entirety of their careers. Through his willingness to put the lessons from those experiences out there, readers of Strategic Jaywalking gain valuable insight about the essential elements of leadership and life.
Josh Citron
CEO & Co-founder of Chic Soul
Jay's mission to empower leaders to be the best they can be comes through clearly in his engaging book, Strategic Jaywalking. Using humor and wisdom gained through his impressive leadership journey and the experiences of other leaders, Jay shares valuable lessons that are sure to help you become the leader you aspire to be.
Dr. Beth Cabrera
Author of Beyond Happy: Women, Work, and Well-Being
Short on theory and long on practical experience, Strategic Jaywalking is chock full of good life and leadership advice. The incisive chapter summaries alone are worth the price of admission.
John "Pepper" Bullock
Dean, The Academy WITHIN
Strategic Jaywalking is a refreshingly honest self-reflection packed with lessons learned and supported by an impressive collection of quotes and data. While you'll learn a great deal about the past, his unique lens on business and life informs us about what's next. That's why everyone should read it. Jay McDonald defines jaywalking in myriad ways. For me, it now means having had the incredible opportunity to walk in Jay's shoes. Enjoy!
Leo Bottary
Founder/Managing Partner, Peernovation, LLC, Author, Peernovation
With leadership development having become a DIY process and if you are currently in or aspire to a leadership role, you need to read Jay's book, Strategic Jaywalking. The takeaways are numerous, highly usable, and well worth your time
Beth Armknecht Miller
Talent Management & Leadership Coach, Founder, Executive Velocity, Author, Replaceable
This has been a thoroughly amazing read. The information inside provides great guidance for people of all kinds in business. The examples and honest accounts are of BIG value to those who read Strategic Jaywalking.
Jaime Hernandez
President, Strategic Business Communications, Inc.
Jaywalking is thinking differently." Here's a book based on decades of leadership experience, written in a style that's candid and clear. Jay McDonald pulls no punches, and his writing makes these life lessons easy to read and digest. There are no shortcuts in life, but Strategic Jaywalking makes the journey faster - especially when it comes to business and leadership. Highly recommended."
Chris Westfall
Business Coach & Author of Easier and Leadership Language
There is no efficiency nor advantage in business greater than working with good people that you enjoy working with. This is my key takeaway from knowing Jay and a statement that can be read, though may only truly be communicated in a narrative form. The individual threads of Strategic Jaywalking serve to internalize for the reader Jay's experience and convey this important lesson.
Brett Goodson
Co-Founder & CEO, Almond Cow
With practical leadership lessons on critical topics such as cultivating curiosity, the importance of lifelong learning and effective time management, Jay McDonald's Strategic Jaywalking distills a host of insights into a highly readable volume.
Dr. Scott C. Beardsley
Dean of the University of Virginia Darden School of Business
Jay shares much inspiration, relevant stories, and wisdom in this special book, Strategic Jaywalking. His words are conversational as you move anxiously from page to page. Soulful and sincere writing inspires and coupled with a lifetime of proven wisdom in leadership, changes folks permanently. Just as Jay has altered many lives through his direct engagement, he will also positively alter yours through this book. Bottom line, Strategic Jaywalking will change you at a foundational level, right in your core where change usually sticks! You'll become a better leader and person by reading it and incorporating its lessons.
Bill Blackstock
President & CEO at Resilient Floor Covering Institute
With his trademark energy and insight - along with a great sense of humor - Jay McDonald shares the best of what he has learned about leadership during his decades of experience as a visionary entrepreneur, CEO, business advisor and owner. Strategic Jaywalking is a straight-talking, lively and perceptive exploration of all aspects of leadership, from taking the first steps to reaching the final goals, and from rolling with the punches to crafting a powerful legacy. No matter where you are on your leadership journey, you will find enough wisdom and practical insight in these pages to help light your way.
Dr. Gary S. May
Chancellor, University of California, Davis
While reading Jay's book, "alive" was the word that kept coming to mind. After reading many academic works on leadership, it was very refreshing and valuable to read a book with compelling leadership lessons brought to life through numerous examples and stories from Jay's vast and successful leadership experience. And the lessons are presented in ways that make them both thought-provoking and immediately actionable for leaders. I highly recommend Strategic Jaywalking, I think you'll find a single chapter, as I did (the chapter on "Decisive") worth far more than what you invested to purchase it.
Roy Holley
Founder & CEO, The Ridgeway Institute, Author, The Power of Moral Leadership
Strategic Jaywalking is a jewel of insight and counsel on how to effectively lead. Stories and experiences shared in this book speak to us all. Whether you are the CEO of a company or your own career, the leadership lessons and suggestions here punctuate the importance of situational awareness, listening, and time management, to name a few. With his guidance, you'll take your own leadership skills to the next level professionally, personally, and in your own family. Jay really cares about people, as evidenced from his own professional and personal journey. Strap in tight! Strategic Jaywalking takes you on extraordinary and inspiring ride toward a stronger, deliberate, and more fulfilling approach to leadership in any capacity.
Gina Gianfagna
Technical Writer & Instructional Designer, Writers Group, Inc.
Featured In The Media